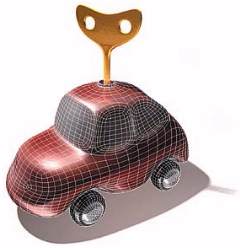 News
2004-12-22
Seasons Greetings
Thank you for your support during the year 2004. The new Realsoft 3D version 5 was just released successfully, and a new Service Pack release and the Linux Version 5 are almost ready for shipping. Also the Mac OSX version development is proceeding well. We look forward delivering you new software versions in the beginning of the next year.
We wish you a Merry Christmas and a happy New Year!
The Realsoft Team
2004-11-15
Realsoft 3D V.5 for Windows Shipping
The Windows version of the new Realsoft 3D version 5 has been released. Some highlights of the new V5 features:
The most accurate hair rendering solution on the market: hairs interact with global illumination, fur details can be examined with a magnifying glass and characters can safely dive under water
Automatic, hierarchical, dynamically expandable render network management. Users can, at any time, hook in and out rendering servers and all CPU power becomes automatically used. With the new network rendering tools, user groups can share the management and resources of very large rendering farms easily.
Radically improved UV editing toolkit featuring a new, object hierarchy based UV object, which lets you split model geometry into an arbitrary number of overlapping or separate surface areas. UV objects layer locally and efficiently an unlimited amount of textures, shaders and vertex channels.
Improved animation interface based on the construction stack approach. The playback window is now loaded with useful functionality for basic animation editing. The choreography editor has also taken a major leap forward, now providing an efficient interface for more advanced animation control.
A post shading system. The user can change reflection intensity and color, specular highlights, shadow smoothness and other shading components without going through the time consuming ray tracing phase. The post shading system is open and new object/light source/shader specific controls can be hooked in.
Hundreds of speed optimizations and productivity increasing features, such as gradual shader refinement to OpenGL textures as a background thread, undo for all data libraries, general project cleanup (purge) tools, a new painting based edit handle selection, a hole filling tool for easy fixing of imported polygon models, etc.
You can buy the new product version from our Web Shop and from authorized Realsoft 3D dealers.
Pricing (VAT excluded): Realsoft 3D v.5 for Windows 600 EUR/750 USD. Up to 75% educational discounts and a competitive upgrade discount available. For more information about prices, visit the web shop.
Versions for other supported platforms (Linux, SGI Irix, Mac OSX) will be released in the near future.
An updated trial version 5 is under development and will become available at this website in December 2004.
2004-10-01
AC3D Import/Export plug-in
Marc Bayer has implemented AC3D import/export plug-in for the linux version of Realsoft3D. You can download the plug-in from the Software Updates / Linux page.
2004-08-30
New sublicense program for educational institutes
Nonprofit educational institutes, which own a Realsoft 3D license and arrange graphics courses using Realsoft 3D, can now pass totally free sublicenses to their students.
Features
Students can install the software during the course to their own computers.
After the course, they can continue using the free license for their own commercial or other productions legally.
The students have an option to upgrade the free sub license to their own personal license.
For further information contact: sales@realsoft.com
2004-07-13
First pictures of the alpha release of Revolution4D !
Deltaknowledge has been unveiled a new plugin for Realsoft 3D - Revolution4D !
The first snapshots can be seen at Revolution4D pictures.
The plugin brings CAD features in Realsoft3D. Revolution4D is for all Realsoft3D users which need to perform mechanical modeling, architectural design, nurbs design, 3D CAD, etc. http://www.deltaknowledge.com
2004-07-08
Realsoft Graphics announces new educational prices
The educational license of Realsoft 3D V4.5 for Windows now costs only 150 EUR. The educational price of the Linux version is 100 EUR.
With the new lower prices, Realsoft 3D is even more affordable!
Got an earlier version of Realsoft 3D? Check out our new upgrade pricing. The price of the educational Windows upgrade has been reduced to 100 EUR and Linux to 75 EUR.
And don´t miss this: Customers who have purchased a new license or upgrade this year get Realsoft V5 free of cost when it ships.
2004-07-08
New Educational Class Licenses
Realsoft Graphics is pleased to announce two new products for educational licensing:

Educational class license for Windows (8 or more seats)
Education class license for Linux (8 or more seats)
2004-05-27
New Realsoft 3D dealer
Realsoft Graphics welcomes a new authorised dealer, Jean-Michel Desloges located in Seiches Sur Le Loir, France.
2004-05-10
Expose 2 success
Tim Borgmann's Microscope and Abstract Art images, created in Realsoft 3D, have been chosen into the respected Exposè 2 book. An image of the abstract series received the Abstract and Design 3D Master Award. Congratulations, Tim!
2004-04-09
An update for Realsoft 3D IRIX V4.5 released
The new release supports posix threads and symmetric multi processing. The new revision should render approx. 10% quicker than the old one. Michael Schmeling's plugins included. Registered users can download the new release from Software Updates / IRIX page.
2004-03-24
V5 upgrade offer
The release date of version 5 is getting closer. If you purchase a Realsoft 3D v.4.5 license or upgrade now, you will get version 5 free of cost!
2004-01-24
HDRI image import plugin released
Henrik Nyqvist has written a plugin which reads HDRI images into Realsoft 3D. He kindly made the plugin available to the user community free of charge. Available for Windows, Linux and IRIX.
2004-01-15
Quake3 plug-in released
There is a new plug-in for exporting SDS models to Quake3 arena md3 format. Currently the plug-in is available only for the linux version. Registered linux users can download the plug-in from Software Updates / Linux area.
2003-12-22
Greetings of the Season
Warm thanks to our customers and partners for your support. We wish to send special thanks to those prominent users who have contributed in making Realsoft 3D community famous for its friendliness and helpfulness, by developing great plugins, running user forums, writing publications and tutorials, and helping other users in the mailing list.
The new software version 5 will be ready early next year. We look forward continuing the co-operation with you during the year 2004!
Merry Christmas and a Happy New Year
The Realsoft Graphics Team
2003-12-02
RealMoca - a motion capture plug-in for Realsoft 3D released
DynaDream has released a motion capture plug-in for Realsoft 3D. The plug-in is called RealMoca and it is available for for Windows and Linux platforms.
2003-11-22
New plug-in from Dynadream
Carlo Lanzotti from Dynadream has written a new plug-in named SDSpecular for Realsoft 3D. The plug-in is available for Windows and Linux platforms.
2003-09-13
Realsoft 3D images included with Exposé 1 book
Tim Borgmann's terrific electron microscope images are included with the book "Exposé 1", which is a collection of finest digital art put together by the highly respected staff of CGtalk. Some of the images were recently presented on the frontpage of CGtalk.
2003-08-08
Realsoft 3D Special Edition for Computer Arts
The August issue of Computer Arts reviews Realsoft 3D modeling features and includes a Realsoft 3D Special Edition in their cover CD.
According to their reviewer, "Realsoft 3D is one hell of a package".
2003-06-03
New version of Realsoft 3D for Irix available
A new updated beta version of Realsoft 3D for Irix/MIPS has been released. The version represents the latest v.4.5/SP1 state of the product (build 26.41b) and is available for all Unix and Windows license owners at the user area of this website. The product can be purchased from the web shop of this site.
2003-06-03
Character animation book
Katharina Sckommodau has written a book (published by Addison-Wesley), which describes in detail how to model a character and attach it to a skeleton in Movie 3D. The book can be used with Realsoft 3D as well, because both programs use the same software architecture. The book can be purchased from Amazon.de. Available in German language only.